As part of Ahern Family of Companies, Ahern Rentals is the largest independent family-owned equipment rental company in the world, and is headquartered in Las Vegas, Nevada.
The nearly 70-year legacy of Ahern Rentals started when Ahern Renter's Center founder John P. Ahern was born in Fallon, Nevada, on September 15, 1915.
After high school, he went on to college at Utah State University of Agricultural and Applied Science, where he received his degree in 1939. That same year he married Martha Lallis. John then went on to serve in the military during WWII. After returning home, he worked as a USDA extension services agent where he worked to empower farmers, ranchers and communities to improve nutrition and food safety, prepare for and respond to emergencies, and protect the environment. Later John became general manager of Clark County Dairyman Association, a cooperative association in Las Vegas that helped farmers market their milk.
By 1953, John and Martha decided to go into business for themselves by purchasing Signal Oil & Gas, a service station located on the current site of The Strat.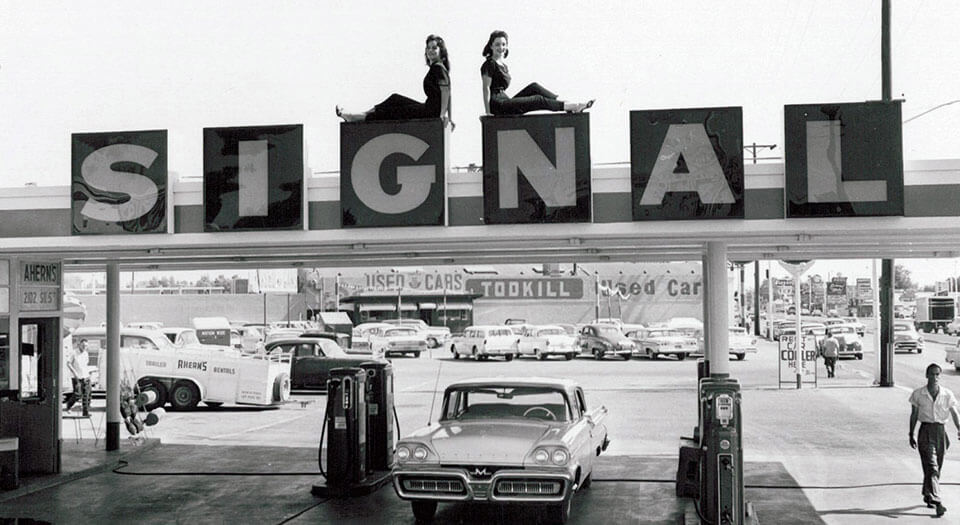 They started by selling gas and diesel and renting equipment at the same location. The first items they rented were automobile window-mounted swamp coolers used primarily by tourists traveling to California. That same year, their son and future Ahern Family of Companies CEO was born.
John and Martha ran the business until 1958 when they sold Signal Oil & Gas so they could focus on the rental market.
As their family continued to expand, so did their business. Next, they opened Ahern's Trailer and Equipment Rental on Main Street in Las Vegas and expanded the rental inventory to trailers, hand tools and trucks. These items were soon followed by construction equipment and homeowner items such as lawn and garden equipment.
By 1970 they expanded yet again, opening Ahern Renter's Center in the historic Westside of Las Vegas where much of the local rental business remains today.
After graduating from high school, John and Martha's son Don F. Ahern followed in his father's footsteps by going to work in the family business.
In 1978, Don launched his own small rental store starting with a fleet of eight scissor lifts.
Due to increased demand, the business would be relocated and renamed to Los Arcos Equipment, expanding throughout Southern Nevada and Southern California by 1983. In 1990 Don purchased Ahern Renter's Center from his father and combined both rental companies.
The projects Ahern has been a part of reads like a 20th century history of Southern Nevada and its famous events. As CEO, Don is continuing the legacy and has grown the Ahern Family of Companies to more than two dozen brands that provide a comprehensive and cohesive offering to the global customer base, including equipment sales and rentals, manufacturing, spare parts, financing, engineering, transportation, education, fabrication, real estate, and hospitality. AFC employs more than 2,500 people worldwide and has an annual revenue of more than $1 billion.
This historic legacy will continue to impact the Nevada skyline as well as those around the world for years to come. As we continue to grow, the family values Ahern was built on will be at the forefront of everything we do, and the Ahern name will always be synonymous with innovative equipment and excellent customer service.